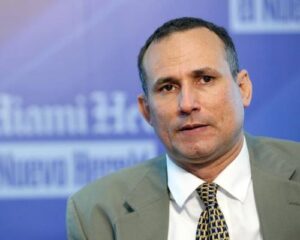 CUBA/Detained July 11, 2021
José Daniel Ferrer García is a long-time Cuban human rights activist and the General Coordinator of the Patriotic Union of Cuba (UNPACU), one of Cuba's most well-known and active human rights and pro-democratic civil society organizations. UNPACU emerged in 2011 in response to government repression and advocates through peaceful means for civil liberties in Cuba. It has repeatedly been targeted by the government since its establishment. Ferrer has been a leading voice speaking out against government repression and violation of liberties in Cuba. Due to his activism, he and his family are frequently arrested, threatened, and harassed by the authorities.
On July 11, 2021, Ferrer was arrested while attempting to join a protest in the eastern city of Santiago de Cuba, alongside his son. This protest was part of coordinated anti-government protests that occurred across the country, where activists chanted "freedom" and demanded an end to the over 60-year-old Communist dictatorship on the island. He was detained in a "preventative prison" on charges of public disorder, and then on charges that he violated his house arrest conditions from a trial held in February 2020. In a trial where he was unable to get any legal representation, the court ordered him to serve the rest of his 4 ½ year sentence from that 2020 judgement in jail instead of house arrest. It is assumed he is being detained in Mar Verde prison.
The February 2020 sentence is due to his arrest on October 1, 2019. At that time Ferrer was taken by the police after being assaulted in his own home alongside 4 other activists. In a closed-door trial, he received a 4 ½-year-imprisonment sentence for abducting and assaulting a man in jail. He served six months in jail before international pressure led the Cuban government to release him on house arrest.
Ferrer co-founded UNPACU upon his release from 8 years in prison. He was detained during a government crackdown known as the Black Spring in 2003. Ferrer has been arrested over 100 times throughout his decades-long activism. His story has attracted the international community's attention. Most recently, Amnesty International named him a prisoner of conscience. In addition, the U.S. State Department's 2019 annual Country Report on Human Rights Practices specifically highlighted the threats and assaults against UNPACU and more specifically the experiences of Ferrer.
In 2009, Ferrer and fellow Cuban dissidents Librado Linares García, Iván Hernández Carrillo, Jorge Luis García Pérez, and Iris Pérez Aguilera were jointly given the Democracy Award from the National Endowment for Democracy for their involvement in the pro-democracy movement in Cuba. He also received the 2011 XIII International Award on Human Rights from the Cuban-Hispanic Foundation for his years of activism.