AZERBAIJAN / Detained January 9, 2017
UPDATE: On March 3, 2019, Mehman was freed after serving two years in prison, completing the full length of his sentence.
Mehman Huseynov is a well-known anti-corruption blogger and photojournalist in Azerbaijan. He is also the Chairman of the Institute for Reporters' Freedom and Security (IRFS), an Azerbaijani organization that promotes freedom of expression. As part of his photojournalism work, Mehman has documented the deteriorating political freedoms in Azerbaijan through powerful photographs, receiving the Fritt Ord Foundation and the Zeit Foundation's press prizes in 2013. He documented corruption in the high echelons of Azerbaijan's ruling establishment in a video series called "Hunt for Corrupt Officials."
On January 9, 2017, plainclothes police officers attacked Mehman and forcibly dragged him into an unmarked vehicle. During the attack, they bound Mehman's eyes and mouths with towels, forced a bag over his head, and used an electroshock weapon on his groin. They then drove Mehman around in the vehicle for four hours before taking him to the Nasimi District Police Station, where they formally arrested him. He was released the next day but fined 200 AZN (about 100 USD) for "disobeying the police." Mehman subsequently spoke out against his treatment, calling for an investigation into his ill-treatment and giving interviews about his abduction.
On March 3, 2017, Mehman was sentenced to two years in prison on "defamation" charges related to his protest against his treatment at the Nasimi District Police Station. When his defense lawyer appealed Mehman's sentence to present witnesses corroborating Mehman's claims of being tortured in prison, the court refused to appropriately investigate the issue and dismissed his appeal in December 2017.
On December 26, 2018, just two months before Mehman was due to be released, authorities levied further charges against Mehman and accused him of "resisting a representative of the authorities with the use of violence dangerous to [the representative's] health and life." With the additional charges, Mehman faced up to another seven years in prison. According to Mehman, he was pulled aside during a routine inspection to undergo an additional search. However, when left alone with a prison official, the official fell to the ground and faked being attacked. The Azerbaijani officials refused to provide access to the surveillance cameras from the area.
To protest the unfounded charges, Mehman undertook a hunger strike, during which he was joined by a number of other Azerbaijani political prisoners, including Khadija Ismayilova, Tofiq Yaqublu, Giyas Ibrahimov, and Ilkin Rustamzade. The charges were subsequently dropped on January 22, 2019.
Mehman was released on March 3, 2019, after spending two years in prison.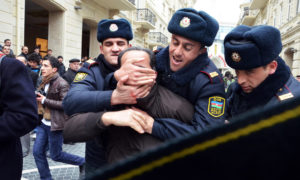 Mehman Huseynov's award winning photograph.
"I live in Azerbaijan where I never saw democracy. The fundamental freedoms of democracy are freedom of expression, freedom of media, freedom of assembly, property rights, etc. These freedoms and rights are restricted in Azerbaijan. Sometimes, you see people's rights violated, but you cannot speak or write about it. In this photo, the police have covered the mouth and the eyes of the man so that he can neither see reality, nor speak about it. This is how democracy exists in Azerbaijan." – Mehman Huseynov's WYMD entry about freedom of expression and police brutality in Azerbaijan.