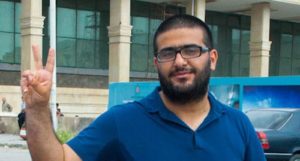 AZERBAIJAN / Detained May 17, 2013
Update: Ilkin Rustamzade was released by presidential pardon almost six years into his sentence on March 17, 2019, ahead of Noruz—Azerbaijan's New Year celebration. The presidential pardoning of prisoners is common around this time, but generally does not include political prisoners. Upon his release, Ilkin gave an interview about how he intends to continue his activism and how he thinks the international community can help activists working under duress in Azerbaijan. Read the interview here.
Ilkin Rustamzade is a youth activist and leading member of Azad Genclik ("Free Youth"), a pro-democracy youth movement in Azerbaijan. An outspoken critic of the government, Ilkin and other members of Azad Genclik regularly used social media to organize peaceful protests.
On May 17, 2013, Ilkin was arrested in connection with his alleged involvement in a satirical "Harlem Shake" YouTube video filmed in Baku, Azerbaijan. Although Ilkin does not appear in the video and the video contains no political content, the authorities charged him with "hooliganism" under the assertion that Ilkin had filmed the video and subsequently posted it on YouTube. Ilkin categorically denied having any involvement in the video.
Ilkin had been previously targeted for his political activism. Just two days before his arrest, Ilkin had been released from 15 days of administrative detention for his involvement in organizing a peaceful gathering to commemorate victims on the anniversary of a 2009 shooting at the Azerbaijani State Oil Company. Two months before, in March 2013, he had served six days of administrative detention as punishment for organizing a series of widely-attended peaceful protests to raise awareness for the deaths of soldiers in non-combat situations.
In September 2013, Ilkin was further charged with "organizing mass violent disorder" and accused of plotting to use Molotov cocktails against authorities at the March 2013 protests. On May 6, 2014, Ilkin was sentenced to eight years in prison.
Ilkin's arrest was widely criticized as being politically motivated. Critics pointed out that the "Harlem Shake" video was completely apolitical and that Ilkin makes no appearance whatsoever in the video. Dr. Agnes Callamard, then the executive director of international human rights organization Article 19, stated that Ilkin's detention "is part of a wave of politically motivated arrests."
While in prison, Ilkin was repeatedly placed in solitary confinement in retribution for his continued criticism of the government in letters sent from prison. In May 2017, he marked four years in prison and became one of the most long-standing political prisoners in Azerbaijan.
On March 17, 2019, Ilkin was released by presidential pardon ahead of Noruz, Azerbaijan's New Year celebration. It is common for the president to pardon prisoners in the time period leading up to Noruz, but political prisoners have generally not been pardoned. He had served nearly six years in prison.
Upon Ilkin's release, he gave an interview discussing his imprisonment and how he intends to continue his activism. He notes that "it is crucially important for international community (sic) to pay equal level of attention to all activists under risk, not only to those who are well connected with Western organizations."