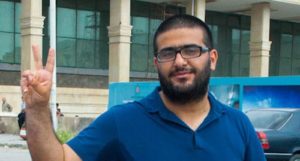 AZERBAIJAN / Detained May 17, 2013
Update: Ilkin Rustamzade was released by presidential pardon almost three years into his sentence on March 17, 2019, ahead of Noruz—Azerbaijan's New Year celebration. The presidential pardoning of prisoners is common around this time, but generally does not include political prisoners. Upon his release, Ilkin gave an interview about how he intends to continue his activism and how he thinks the international community can help activists working under duress in Azerbaijan. Read the interview here.
Ilkin Rustamzade is a youth activist and leading member of the Free Youth Organization. In March 2013, Ilkin, a senior university student, used social media to organize a series of widely attended peaceful protests in central Baku to address non-combat deaths of soldiers, as well as poor working conditions of the national army. Ilkin, together with several other youth activists, was imprisoned after the protests on May 17, 2013.  He was charged with organizing mass disorder, hooliganism, and use of power against a state representative. In May 2014, he received an 8 year prison sentence. While in prison, he joined NIDA Civic Movement, a pro-democracy youth organization that has been targeted by the government, to express his support for other young political prisoners.
Ilkin is currently one of the most long-standing political prisoners in the country. He has been subjected to continuous threats and ill-treatment during his imprisonment. The European Court of Human Rights has initiated communication with the Azerbaijan government on Ilkin's case. Joining NIDA and other civil society groups, the International Partnership for Human Rights (IPHR) is leading the #FreeIlkin campaign to work for his release.