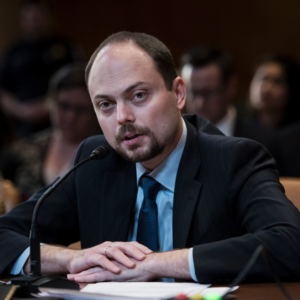 On April 17, 2023, Vladimir Kara-Murza, a leading independent voice in Russia, journalist, and historian was sentenced to 25 years in prison for criticizing the Putin regime and its war in Ukraine. His trial was held behind closed doors. Kara-Murza was arrested outside his home in Moscow on April 11, 2022, on charges of disobeying the police. He was later charged with spreading false information about the Russian Army and in October of 2022, additional charges of treason were introduced against him. While in detention, Kara-Murza's health has significantly deteriorated, and he has suffered from polyneuropathy caused by two near-fatal poisoning attacks in Russia in 2015 and 2017. Kara-Murza's detention is part of a widespread campaign by the Putin regime to silence independent voices and crack down on civil society and the media in Russia.
Vladimir Kara-Murza has been politically active since the early 2000s. While working for various newspapers and earning his master's degree in history from Cambridge University, Kara-Murza joined the Open Russia Foundation, a non-profit organization that promotes civil society and democracy in Russia. In 2012, he was elected to the Coordinating Council of the Russian Opposition and served as deputy leader of the People's Freedom Party from 2015 to 2016. In 2018, Kara-Murza was awarded the Civil Courage Prize and in 2022 he was awarded the Václav Havel Human Rights Prize.
The World Movement for Democracy joins the growing international call for the immediate release of Mr. Vladimir Kara-Murza.