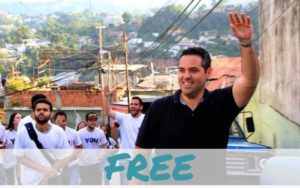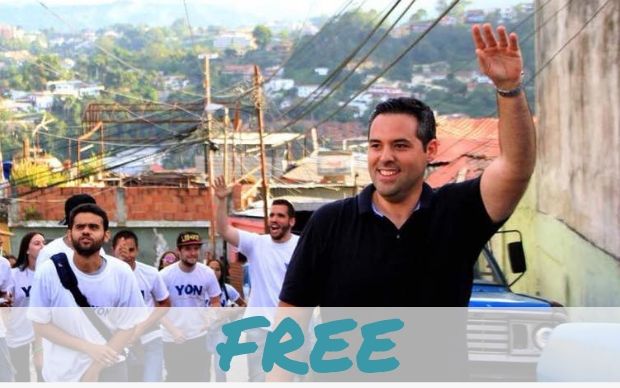 VENEZUELA // Detained August 29, 2016
UPDATE: On November 3, 2017, Yon Goicoechea was released from prison with restrictions on speech and movement after more than a year in detention. He continues his political activism in Venezuela today.
Yon Goicoechea is a Venezuelan activist, lawyer, and member of the political party Voluntad Popular ("Popular Will"). He first gained international attention in early 2007, when he led the Movimiento Estudiantil ("Student Movement") against a decision by then-Venezuelan president Hugo Chavez to shut down Radio Caracas Television (RCTV), an independent television station in Venezuela. At only 22 years old, he organized more than 40 protest marches of around 80,000 people each in an effort to draw global attention to declining civil liberties in Venezuela. Yon received the Cato Institute's 2008 Milton Friedman Prize for Advancing Liberty for his "pivotal role in organizing and voicing opposition to the erosion of human and civil rights in his country." He went on to co-found Futuro Presente, a foundation focusing on leadership and civic training.
After studying in the US and Spain for a few years, Yon returned to Venezuela in 2016, stating "I returned and millions will return, because Venezuela has a future." On August 29, 2016, Yon was kidnapped when eight armed men intercepted his vehicle at the La Trinidad tunnel. Hours later, the vice president of the United Socialist Party of Venezuela (PSUV) confirmed that the Bolivarian National Intelligence Service (SEBIN) took Yon into custody for having "detonating cords." For more than 56 hours, Venezuelan officials withheld information about Yon's whereabouts from his family and lawyer, only revealing his location after prosecutors charged him with possessing explosives and a judge ordered his pretrial detention.
In a New York Times column written from jail, Yon reported that "a couple of dozen armed agents tied [his] hands and covered [his] head with a black cloth." He was subsequently detained in a cell without light or natural ventilation, where he "felt as if [he] had been buried alive." At his trial, Yon testified that he had to "sign a document stating that his rights had been respected" or risk solitary confinement for months, despite being kidnapped without an arrest warrant and detained without access to legal counsel.
On September 6, 2016, Yon was transferred to an administrative office in SEBIN detention center the Helicoide. There, he slept on a mat for seven months, before finally being placed in a cell with a bed. He further reported being filmed and harassed by SEBIN officials.
On October 20, 2016, a court ordered Yon's release due to the prosecution failing to bring charges against him within 45 calendar days of his arrest. Nevertheless, SEBIN officials continued to hold him in their detention facility. In Yon's own words, he was "being held hostage in violation of the Constitution." During this time, the United Nations, Human Rights Watch, and Amnesty International all called for Yon's immediate release.
Yon remained imprisoned until November 3, 2017—more than a year after his case was closed. He remains a political activist in Venezuela, serving in the national board of Voluntad Popular and the transitional government of Juan Guaido, president of the National Assembly. He continues to fight for his dream of a "democratic, free, independent Venezuela, a peaceful Venezuela."