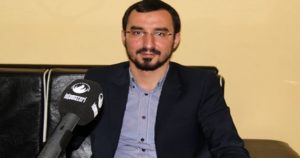 AZERBAIJAN / Detained November 16, 2015
Update: In February 2019, Tale Bagirzade began a hunger strike in protest of his reported torture while imprisoned in Gobustan prison, a high-security prison outside of Baku. A month prior, he published a plea asking the international community "do not be indifferent" to "human tragedy in Gobustan Prison."
Tale Bagirzade is a Shia theologian, head of the Muslim Unity Movement, and well-respected public figure. Tale has been an outspoken advocate of the peaceful Islamic movement and the rights of the religious community. He has also been vocal with his criticism of the ruling elite in Azerbaijan. On November 26, 2015, Tale and 16 fellow religious activists were arrested during a deadly police raid in the Nardaran district. The authorities claimed that the Muslim Unity Movement aims to "overthrow the constitutional order" and characterizes it as a terrorist group. However, it is believed that the raid was part of the government's campaign to consolidate power and silence dissent by labeling them as extremists.
According to Amnesty International, Tale and fellow activists have been subject to severe torture in detention. On January 25, 2017, he was sentenced to 20 years in prison on politically-motivated charges, including "illegal weapons possession, conspiracy, murder, terrorism and inciting religious hatred." It is Tale's third imprisonment; he was arrested and sentenced to 1.5 in 2011 and 2 more years in 2013.
The United States Commission for International Religious Freedom stated that the status of religious freedom in Azerbaijan dramatically deteriorated in 2016. Local human rights defenders have closely followed the case of the imprisoned religious activists and recognized them as prisoners of conscience.