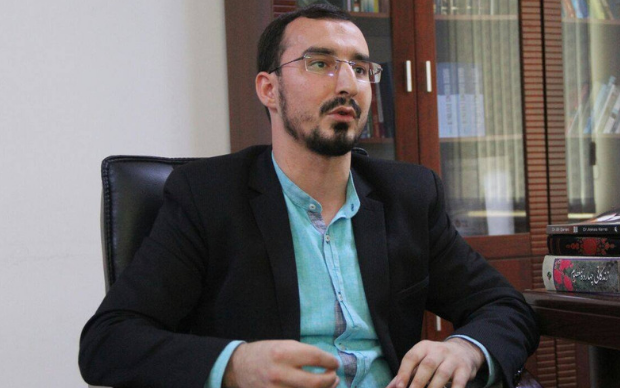 AZERBAIJAN / Detained November 16, 2015
Update: In February 2019, Tale Bagirzade began a hunger strike in protest of his reported torture while imprisoned in Gobustan prison, a high-security prison outside of Baku. A month prior, he published a plea asking the international community "do not be indifferent" to "human tragedy in Gobustan Prison."
Tale Bagirzade is a prominent Shia theologian in Azerbaijan. He is also founder and head of the Muslim Unity Movement, a peaceful Shiite Islamic socio-political movement that calls for democratic reform and religious liberties. An outspoken advocate for the rights of the religious community, Tale has been vocal with his criticism of the ruling elite in Azerbaijan. Many believe his outspoken criticism of the government was the catalyst for the infamous "Nardaran affair," in which he and 15 other religious activists were detained during a raid.
On November 26, 2015, the Azerbaijani authorities conducted a raid on a home in Nardaran, Azerbaijan, where Tale was leading a religious ceremony. A struggle ensued during the raid, ultimately producing six casualties (four civilians and two police officers). According to witness testimony, "black-masked security forces" dragged the targets of the raid to a furniture van and beat them with rifle butts.
Ultimately, Tale and 14 others were detained. Following the raid, Tale was taken to a temporary detention center, where interrogators broke his nose and prevented him from telephoning his relatives.
On January 25, 2017, Tale was sentenced to 20 years in prison on a litany of charges, including murder, terrorism, organization of mass riots, illegal possession of weapons, and attempted forcible seizure of power. Authorities accused him and the Muslim Unity Movement of planning an armed insurrection against the state, and claimed that they had thrown Molotov cocktails and opened fire on the police officers during the raid. The trial was widely criticized as farcical, as very few journalists were allowed entry to the courtroom, and the prosecutor spoke quietly and refused to use a microphone when laying out the case against Tale and the Muslim Unity Movement.
Tale has been previously targeted by the Azerbaijani officials, serving two terms as a political prisoner from 2011-2012 and 2013-2015. He had only been released from his second prison term for three months before being detained a third time.
Tale's detention precedes an extended crackdown on the Muslim Unity Movement and other religious liberty groups. The United States Commission for International Religious Freedom stated that the status of religious freedom in Azerbaijan dramatically deteriorated in 2016. Local human rights defenders have closely followed the case of the imprisoned religious activists and recognized them as prisoners of conscience.