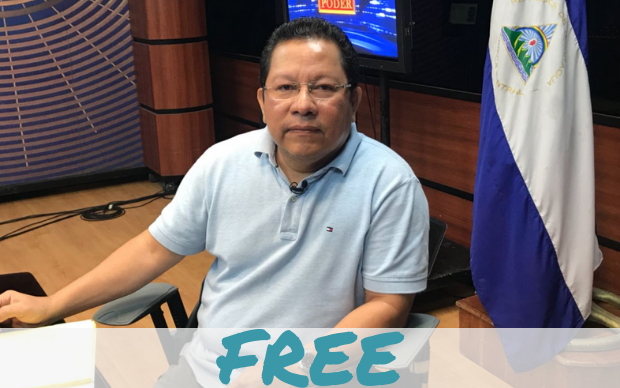 NICARAGUA // Detained December 22, 2019
UPDATE: Miguel Mora was released on June 11, 2019, along with 56 other political prisoners. The release follows the Nicaragua National Assembly's recent passage of a new law granting amnesty to all protesters and police involved in the 2018 uprising against President Daniel Ortega.
Miguel Mora is a well-respected journalist and director of the news outlet 100% Noticias. He was arrested on December 22, 2018, alongside news director Lucía Pineda, when police and paramilitary forces raided the office of 100% Noticias and took them off air. The Committee to Protect Journalists condemned the raid and arrest as an "unacceptable escalation of the Nicaraguan government's crackdown on the country's independent media."
Mora was charged with "promoting and inciting hatred, violence and death" due to the program's coverage of the protests and criticism of the government. His charges also include kidnapping, murder, and torture—allegations widely applied to protest leaders that guarantee lengthy prison sentences. Mora denies all allegations as a government sanctioned smear campaign. He remains detained in La Modelo men's prison, where he is allowed only two visits a month. On February 23, 2019, Mora began a hunger strike to protest the denial of a visit by his wife in February. After 10 days without food, he ended the strike at the request of his family.
The Nicaraguan government terminated broadcasts of 100% Noticias shortly after Mora's arrest. "100% Noticias was the only independent 24-hour news network that covered the country's deepening political unrest," notes a news report. Employees of the station have been arrested and harassed for their connection with Mora.
Other independent media outlets such as Radio Dario, El Confidencial, and Canal 10 have been raided and subject to intimidation by security forces and supporters of the government. The Nicaraguan Center for Human Rights (CENIDH) denounced the government's actions as an "evident criminalization of the freedom of expression and an infringement on independent journalism to silence critical voices."
On January 26, 2019, World Movement Steering Committee member Ana Gomes joined a European Parliament Special Mission to observe the status of political prisoners in Nicaragua, including Miguel Mora. She remarked on Twitter, "All MEPs who visited journalist Miguel Mora in El Chipotle prison, #Nicaragua, 3 days ago, were shocked with the conditions they found him in, extremely weak, for 35 days confined in a dark hole. All he did ask for was … light & a bible. Stop the torture, Pres. Daniel Ortega!"
Mora spent 40 days total in solitary confinement in an underground cell and "has suffered intestinal infections and episodes of trembling due to the unhealthy conditions in that dungeon and the lack of potable water," noted another Member of European Parliament. "During the visit, we asked the prison's director to take Miguel Mora out into the sunlight. He needs sunlight, vitamin D. He's almost blind from being in the dark." The delegation interviewed Mora, who said his critical opinion of the government remains steadfast despite the continued threat he faces for speaking out.