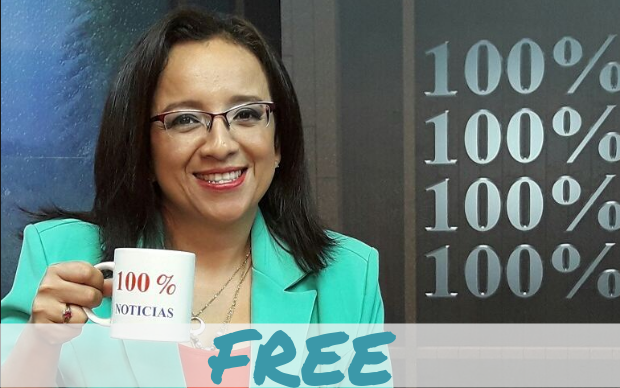 NICARAGUA // Detained December 22, 2018
UPDATE: Lucia Pineda Ubau was released on June 11, 2019, along with 56 other political prisoners. The release follows the Nicaraguan National Assembly's recent passage of a new law granting amnesty to all protesters and police officers who were involved in the 2018 uprising against President Daniel Ortega.
Lucia Pineda Ubau is a prolific Nicaraguan journalist and the news director at 100% Noticias, where she has worked for over ten years. Pineda was arrested on December 22, 2018, when police and paramilitary forces raided the office of 100% Noticias and took them off air. She was charged with "fomenting, planning and conspiring to commit terrorist acts" for the outlet's coverage of protests against the government. The Committee to Protect Journalists condemned the raid and arrest as an "unacceptable escalation of the Nicaraguan government's crackdown on the country's independent media."
On January 26, 2019, World Movement Steering Committee member Ana Gomes joined a European Parliament Special Mission to observe the status of political prisoners in Nicaragua, including Lucia Pineda. Members of European Parliament on the mission interviewed Pineda about her arrest and conditions. For the first month of her imprisonment in El Chipote prison—an interrogation center widely condemned for its use of torture—reports indicate that Pineda was kept in an underground cell where she "slept on the floor or had a bunk without a mattress, suffered from constant mosquito bites, [was] in unhealthy conditions, had skin problems and [was] not allowed to receive sunlight." She was also not allowed to receive visits from family members.
Around February 1, 2019, Pineda was transferred to La Esperanza women's prison, where she was finally able to receive a visit from her cousin. However, she is detained in an isolation cell without a toilet. She reports being denied access to sunlight and can only leave her cell to use the bathroom.
The Nicaraguan government terminated broadcasts of 100% Noticias shortly after Mora's arrest. "100% Noticias was the only independent 24-hour news network that covered the country's deepening political unrest," notes a news report. Employees of the station have been arrested or forced into exile for their work with the program.
Other independent media outlets such as Radio Dario, El Confidencial, and Canal 10 have been raided and subject to intimidation by security forces and supporters of the government. The Nicaraguan Center for Human Rights (CENIDH) denounced the government's actions as an "evident criminalization of the freedom of expression and an infringement on independent journalism to silence critical voices."