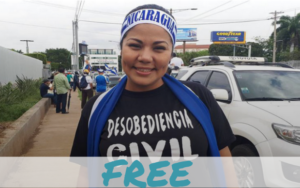 NICARAGUA // Detained July 18, 2018
UPDATE: Irlanda Jerez was released on June 11, 2019, along with 56 other political prisoners. The release follows the Nicaragua National Assembly's recent passage of a new law granting amnesty to all protesters and police involved in the 2018 uprising against President Daniel Ortega.
Irlanda Jerez, a dentist by profession and civil society organizer,  was detained on July 18, 2018 and sentenced to five years in prison on charges of "fraud" and "swindling." It is widely believed that Jerez is being punished for organizing a civil disobedience campaign in the country's largest market, Mercado Oriental. Beginning on June 4, 2018, Jerez and other shop owners refused to pay taxes to the government to protest its disregard for human rights. "Irlanda always had a patriotic ideology, she does not have the color of any political party. . . .On April 19th when we went out and [security forces] attacked us again, she decided to be one more voice demanding  our rights. Her principles are unbreakable," says her husband, Daniel Esquivel.
On July 18, 2018, National Police stopped Jerez and her husband at a traffic light. The police claimed her car had been involved in a robbery, and arrested Jerez without a warrant. The next day, the Supreme Court published a statement that Jerez had been convicted of "fraud" and "swindling." However, she was immediately placed in a cell with eight women, all convicted of "terrorism," a common charge for those who participated in protests. Her husband, a lawyer, notes that those convicted of common offences—including fraud and swindling—are jailed separately from those accused of criminal offences —including terrorism. She is imprisoned in La Esperanza women's prison, where she currently shares a cell with 17 other women. While imprisoned, she has faced torture for continuing acts of peaceful resistance and for making political statements.
Jerez is being held in inhumane conditions, as are many arrested since the April 2018 protests. A report by Confidencial—a news outlet raided and ransacked by government forces in December 2018—details her holding conditions. "Irlanda Jerez has been for 54 days in an eight by four meters' cell, in La Esperanza women's prison along with nine other prisoners…In the room light filters through small slits the size of a concrete block. In 54 days, Jerez has been out in the open for just one hour and has lost 20 pounds." Since the report, she was transferred to a larger cell holding 19 women total.
Many in the international community fear for Jerez's safety in La Esperanza prison. Twice, unidentified men have attacked Jerez and her cellmates. On October 26, 2018, a group of armed men broke into the cell containing 17 prisoners with the intent to harm Irlanda Jerez over her refusal to be interrogated several hours before. One woman was left unconscious for three hours, and none received medical care. Prison officials informed Jerez that she had accrued 21 infractions while in La Esperanza and that they intended to transfer her to permanent solitary confinement. "My mom has a record of 'inappropriate behavior' for praying, singing the anthem, drawing the national flag, talking to the other prisoners about the corrupt government," says her daughter. Jerez was returned to the group cell after women in the prison tirelessly campaigned for her return.
On January 26, 2019, World Movement Steering Committee member Ana Gomes joined a European Parliament Special Mission to observe the status of political prisoners in Nicaragua. She interviewed Irlanda Jerez, alongside her cellmates. Jerez testified about being drugged while in holding at El Chipote prison—an interrogation center widely condemned for its use of torture—and the attack she suffered in October.
On February 10, 2019, 20 guards attempted to take three prisoners from a cell containing Jerez. Women in the cell resisted the transfer and were severely beaten by the guards. Two women were eventually taken to an unknown location, where they were incommunicado for at least two days.