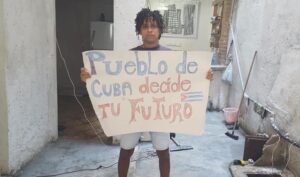 Denis Solís Gonzalez, a young Cuban human rights activist, was arrested on November 9, 2020 and is being held on charges for alleged contempt. Solís is a member of the San Isidro Movement (MSI), a group of artists, poets, LGBTI activists, academics, and independent journalists who advocate for freedom of expression in Cuba. His affiliation with the entity, along with his critical musical productions, has made him a target for authorities, who are cracking down on dissent in a new wave of restrictions and surveillance operations in the country.
Solís was arbitrarily arrested in his home in Old Havana for the alleged crime of "contempt" for insulting a police officer. In the moments before his arrest, Solís thanked his supporters and those who expressed solidarity with his activism for the freedom of expression in Cuba over a live Facebook broadcast. He also revealed that his mobile data was blocked, a practice frequently used to disconnect and isolate activists. In his livestream, Solís declared "I am and will be the voice of the people, of all those who are afraid to tell the truth."
Prior to his arrest on November 9, Solís faced months of harassment by Cuban authorities. On October 10 Solís was arrested at the MSI headquarters to intimidate the group and to pressure them into cancelling their concert for freedom in Cuba. As recently as November 7, a police officer briefly entered Solís' home without his consent or a search warrant. Solís broadcasted this incident live on his Facebook account. His encounter with the police officer has now been shared over 1,700 times with over 1000 comments. These incidents highlight the strategic repressive techniques that Cuban authorities use to continuously harass activists, journalists, and political opponents.
After his arrest, Solís was subjected to a summary trial on November 11, 2020 in which he was sentenced to eight months in prison. The process was carried out in isolation and secrecy during which Solís was not allowed to contact his family. Solís was taken to Valle Grande prison after his trial. Since then fellow MSI members have presented a Habeas Corpus to the Provincial Court of Havana to democratically secure Solís' release due to the unlawful grounds for detention. However, the court has not responded to the challenge. A recent media statement said that Solís revealed in a phone call to a relative that he had been the victim of a beating (torture) in prison and that he was threatened with the erasure of tattoos on his body that say the words Cambio Cuba ("Change Cuba").
In protest of Solís' unlawful arrest, MSI activists have employed many strategies for dissent, such as the poetry readings on November 17 in solidarity with Solís and several peaceful demonstrations. Protests culminated on Saturday, November 21 in a central park where over 100 police officers, government paramilitary groups, and thugs beat and temporarily arrested a dozen protesters. Among activists arrested, prominent human right defender and leader of the Ladies in White Berta Soler was also detained.
Solís' detainment has received widespread international condemnation. Prominent human rights organizations including Human Rights Watch, Freedom House, Pen America, Center for the Opening and Development of Latin America (CADAL), the Argentine civil association Cultura Democrática, and the British human rights organization Article 19 have released statements of condemnation. Michael Kozak, the US Undersecretary of State, stated powerfully "the Cuban regime systematically uses arbitrary detentions to intimidate Cubans who speak out courageously against the abuses," and that in "[2020] alone, hundreds have been arrested and interrogated by exercise their right to freedom of expression."