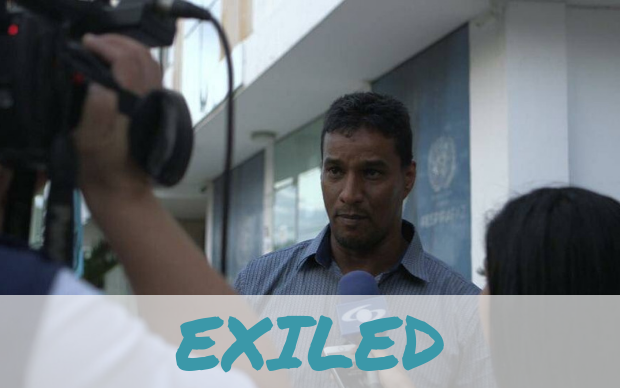 VENEZUELA / Detained on August 31, 2016
UPDATE: On November 3, 2017, Delson was released from prison, but with restrictions on speech and movement. On December 17, 2017, he was forced to flee Venezuela after officials attempted to take him back into custody. Delson is now residing in exile in Colombia.
Delson Guarate is the former mayor of the municipality Mario Briceno Iragorry in Aragua State, as well as a member of leading opposition party Voluntad Popular ("Popular Will"). At the time of his election to mayor, he was only 20 years old—the youngest alderman in the history of Venezuela.
Delson was arrested on September 2, 2016 by the Bolivarian National Intelligence Service (SEBIN), when a team of 15 SEBIN officials forcibly removed him from his office at City Hall. Delson was subsequently imprisoned in a SEBIN detention facility, the Helicoide.
The Venezuelan government initially charged Delson with environmental crimes of "contravention of land management plans and undue disposal of solid and hazardous waste." Shortly afterwards, officials accused him of a plot against Venezuelan leader Nicolas Maduro, alleging that they had found "grenades, tear gas bombs, and a plane for the location of these devices." According to his family, he was not given a chance to defend himself in court—the preliminary hearing of his case was suspended at least ten times.
Delson's health deteriorated significantly during his imprisonment. Over the course of a year, he lost approximately 60 pounds and was diagnosed with diabetes, hypertension, and non-Hodgkin's lymphoma. However, Venezuelan officials repeatedly disregarded his health concerns. After internal bleeding landed Delson in the hospital on September 21, 2016, SEBIN officials forcibly discharged him and returned him to the Helicoide on October 3rd, 2016. A month later, he was rushed back to the hospital for acute gastritis. When he underwent an operation for his intestinal condition, Delson was denied access to the medicine needed for his treatment (five doses of insulin a day). Although his attorney lodged repeated requests to have Delson transferred to house arrest for humanitarian measures, his requests went ignored and Delson remained in the military hospital.
At the same time, Delson's trial was constantly delayed. Ironically, the 43rd Court in Caracas cited his "lack of transfer from the military hospital" as reason for the deferrals. After the tenth postponement in October 2017, Delson went on hunger strike to protest both his prolonged detention and the lack of medical care.
Delson was finally released on parole on November 3, 2017, after more than a year in detention without a hearing. On December 17, 2017, Delson fled Venezuela, crossing the border to Colombia. In a video sent to Venezuelan newspaper El Nacional, he reported that SEBIN officials had attempted to take him back to the Helicoide.
Delson continues his activism in exile, stating that "the most important thing about life in prison is knowing that…you are there because you can generate change."