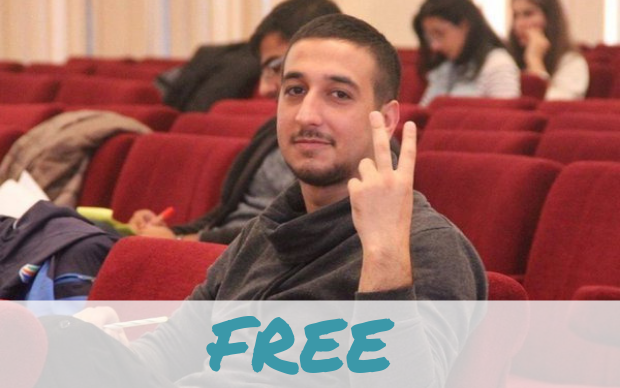 UPDATE: Bayram Mammadov was released on April 29, 2019 after serving a 30-day term in prison. Along with his prior term in prison from May 9, 2016 to March 17, 2019, Bayram was detained for almost three years.
Bayram Mammadov is a student and member of the NIDA Civic Movement, a pro-democracy youth organization that has been targeted by the government. In 2016, he was arrested and sentenced to ten years in prison along with fellow activist and NIDA member Givas Ibrahimov.
Both were released almost three years into their sentence on March 17, 2019, ahead of Noruz—Azerbaijan's New Years celebration. It is common practice for the Azerbaijani president to issue pardons for prisoners during Noruz, but the pardons are generally not extended to political prisoners.
On May 9, 2016, Bayram and Givas painted an anti-government message on the statue of Haydar Aliyev, the former President of Azerbaijan and the father of current president Ilham Aliyev. They posted photos of the graffiti on social media. The following day, both were kidnapped and taken to the police station, where they were brutally tortured. They were asked to publicly beg forgiveness and to confess to serious drug crimes. After Bayram and Givas refused to plead guilty, police officers planted drugs at their apartments and subsequently arrested them on fabricated drug charges. In June 2017, Bayram went on a hunger strike to protest his imprisonment conditions.
Baku Police Chief Mirgafar Seyidov, who tortured Bayram and Giyas in a police station, was included in a list of candidates for targeted sanctions by the US under the Global Magnitsky Act, a 2016 law that sanctions foreign government officials for human rights violations. Amnesty International also highlighted their cases in its campaign for the release of political prisoners.
Bayram was released on March 17, 2019, after three years in prison. However, he was rearrested just two weeks later on March 30, 2019 and sentenced to 30 days in prison. Although Bayram was officially charged with "disobedience to law enforcement," many believe that he was arrested in retaliation to his outspoken criticism of the government on social media and his pledge to fight for the rights of all Azeri political prisoners. According to Human Rights Watch, "a day before he was rearrested, Mammadov gave an interview to a local online media outlet criticizing the authorities."
Bayram was denied access to lawyers and relatives for four days following his re-arrest. During his trial on April 2, 2019, he alleged that the police had tortured him, showing the court the bruises on his face and his swollen nose and ears. Witnesses reported that Mammadov had "received serious traumas on his head and is dizzy all the time." Although the judge ordered an investigation into Bayram's torture, an Azerbaijani political prisoners' advocate reports that "no one is punished for torture, because the very possibility of inhuman and cruel treatment is rejected."