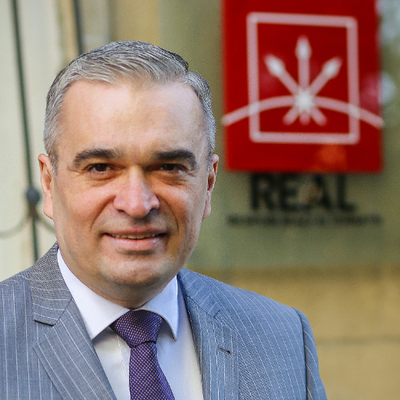 AZERBAIJAN / Detained February 4, 2013
UPDATE: On August 13, 2018, Ilgar Mammadov was released after the remaining two years in his sentence were suspended. He had spent a total of five years in prison. However, Ilgar is banned from leaving Azerbaijan.
Ilgar Mammadov is a prominent Azeri politician and outspoken critic of the Azerbaijani government. He is the head of the Republican Alternative Party (ReAL), an opposition political party that was originally founded as a youth movement to achieve social and democratic changes in Azerbaijan.
On January 24, 2013, Ilgar visited the small provincial town of Ismayilli, where the town's inhabitants had rioted against local officials over an incident in which a local taxi driver was attacked by a businessman with connections to Ismayilli's governor. On February 4, 2013, authorities arrested Ilgar and Tofik Yaqublu, another politician who had visited Ismayilli after the riot, and charged them with inciting the riot. Both politicians had visited after the protests were over and each spent less than an hour in the town.
Ilgar was subsequently placed in pretrial detention for two months. His pretrial detention was repeatedly extended by two-month periods until November 2013, when his trial began. His arrest was widely seen as orchestrated by the Azerbaijani government in the run-up to the October 2013 presidential election. Prior to being arrested, Ilgar had announced his intention to run for president during the October election. ReAL had been planning to name Ilgar as their presidential candidate on February 9, 2013, but moved the announcement up to February 4 following his arrest.
Ilgar continued to try and conduct a presidential campaign from pretrial detention, but his candidacy was thwarted after the Central Election Commission claimed that 4,982 of the 41,247 signatures gathered in support of his candidacy were invalid—placing him below the minimum 40,000 signatures required to run for president.
On March 17, 2014, Ilgar was sentenced to seven years in prison for "having organized or participated in mass disorders entailing arson or pogroms" and "resorting to violence endangering the life of police officers." The trial was criticized as a "mockery of the law," with the European Court of Human Rights ruling on May 22, 2014 that Ilgar's detention was politically motivated. His case further received widespread international condemnation from the United States, the European Union, Human Rights Watch, and Amnesty International.
While he was imprisoned, Ilgar was tortured two separate times after refusing to apologize to and pledge his support for Azerbaijan President Ilham Aliyev. On July 29, 2015, Ilgar was attacked by a cellmate in order to coerce him into writing a letter of apology to President Aliyev. On October 16, 2015, Ilgar reported being beaten and kicked by the deputy prison heads. His lawyer subsequently reported that Ilgar had suffered severe headaches as a result of the beatings. Ilgar was additionally placed in solitary confinement in August 2015.
On August 13, 2018, the Shaki Court of Appeals suspended the remaining two years in Ilgar's sentence, letting him go free. Ilgar had spent a total of five years in prison. However, he has not yet been fully acquitted and is banned from leaving the country.