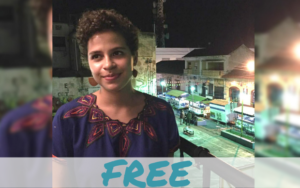 NICARAGUA // Detained September 10, 2018
UPDATE: Amaya was released June 11, 2019, along with 56 other political prisoners. The release comes shortly after the Nicaraguan National Assembly passed a new law granting amnesty to all protesters and police officers involved in the 2018 uprising against President Daniel Ortega.
Amaya Coppens is a Belgian-Nicaraguan medical student and youth leader detained since September 10, 2018 on charges of kidnapping, illegal possession of firearms, and terrorism. Coppens was "a key figure in the student movement, attending to the injured and bringing food to protesters amid a violent clampdown." Coppens was taken without a warrant in a raid on her temporary residence by about 20 armed security forces. She was held incommunicado for 9 days in the infamous El Chipote prison—an interrogation center widely condemned for its use of torture.
The 23-year old was a fifth-year student and a member of the student group "Coordinadora Universitaria Democracia y la Justicia," or University Coordinator for Democracy and Justice. Prior to her arrest, she faced sustained harassment by civilian pro-government mobs and paramilitary forces. In two separate incidents, the message "plomo, plomo" ("lead, lead," referring to bullets) was written on the exterior of her house, and petrol was pointedly spilled in front of it. In April 2018, she was beaten by pro-government mobs and received death threats on social media. For these reasons, she was forced to move out of her house and continuously move residences for fear for her life.
Coppens remains in pre-trial detention, but her lawyer expects her to be found guilty and sentenced to at least 20 years. "These are political trials. Even if you have the best lawyer in the world, our kids will be found guilty and sentenced. The only way out of this is a change in government," says her mother in an interview.
While imprisoned in La Esperanza women's prison, Coppens and her 17 cellmates were attacked by 20 masked and armed men on October 26, 2018. The attack was reportedly in retribution against her cellmate's refusal to be taken for interrogation four hours prior to the attack. One woman was left unconscious for three hours, and none received medical care for their injuries.
On January 26, 2019, World Movement Steering Committee member Ana Gomes joined a European Parliament Special Mission to observe the status of political prisoners in Nicaragua. She interviewed Coppens about her arrest and imprisonment.