STATUS: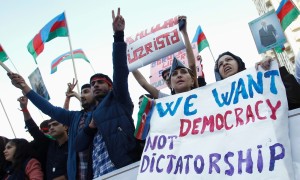 With rich natural resources, Azerbaijan has been economically growing. This rapid economic growth comes with numerous costs: corruption and violations of fundamental human rights.
The work of non-governmental organizations have almost totally circumscribed. Those seeking to build more transparent and accountable governance and to promote human rights in the country have been increasingly suppressed and persecuted. Human rights defenders have been living under constant threat of unjust arrest, imprisonment, and violence. To date, authorities have prosecuted more than 100 democratic activists, independent journalists, and critical social media users with false politically motivated charges such as drug possession, tax evasion, illegal entrepreneurship, and even treason. Similarly, the bank accounts of civil society leaders have been frozen, and some of those leaders have been also banned from traveling abroad. In December 2015, a group of local civil society organizations issued an updated report stating that there are currently 93 political prisoners in Azerbaijan (See Full Report Here).
Many democracy activists, especially young activists, have leveraged social media to disseminate their messages and mobilize mass public demonstrations. For example, when the Eurovision Song Contest was hosted in the country's capital, Baku, in May 2012, protesters creatively utilized the international spotlight calling for freedom of expression. However, the Azerbaijani authorities have continuously targeted youth activists who been active on-line and off-line. The government often intervenes in peaceful assemblies, dispersing crowds with excessive police force, tear gas, and water cannons.
Freedom House has stated that Azerbaijan has not been "free" since 2004, and the country is considered a state with a very limited democracy.
__
_________________
READ MORE ABOUT AZERBAIJAN'S POLITICAL PRISONERS.
___________________
INTERNATIONAL RESPONSE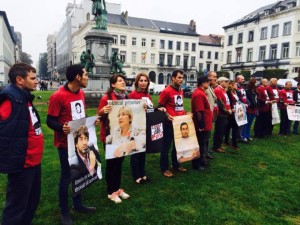 Many other countries have increasingly spoken up on the status of Azerbaijan's deteriorating human rights, but there are more actions that need to be taken to hold Azerbaijan accountable. On September 18, 2014, the European Parliament called upon the Azerbaijani government to release all political prisoners, and called upon the Council of Europe to "consider the possibility of targeted sanctions against those responsible for human rights violations."
In March, 2015, seven states have issued a statement for Azerbaijan as a country of concern under the agenda item 4, "human rights situations that require the Council's attention," in the 28th session of the United Nations Human Rights Council. Leading NGOs also called for the end of systematic suppression of civil society, and urged the authorities to release the political prisoners immediately. On June 8, 2015, Ulrike Lunacek, Vice President and Green Member of the European Parliament, expressed her support for the Azerbaijani political prisoners in the plenary session of European Parliament.
Despite these international efforts, the Azerbaijani government rejects further investigation from the international community. On March 30, 2015, when Giorgi Gogia, a senior researcher of Human Rights Watch, intended to participate in the trial of two human rights defenders in Baku, the government stated that his reasons for traveling were illegitimate and he was denied entry into the country. Most recently, on June 9, 2015, Emma Hughes, a Briton human rights worker was detained by government officials while attempting to monitor the European Games which started on June 12.  Her detainment was due to her open criticism against the relationship between oil and gas giant, British Petroleum and the Azerbaijan government. Similarly, other leading human rights organizations, such as Amnesty International, were also blocked from entering Azerbaijan before the Games' Opening Day.